The 342nd Night of Memory-1
The 342nd Night of Memory was held on Thursday, December 22, 2022, with the presence of a group of commanders, veterans, and engineering officials of the Ground Force and the 40th Sahib al-Zaman (pbuh) engineering group of the IRGC in the Sourah hall of the Arts Center. In this program, which was conducted by Javad Aini, Generals Javad Azimifar, deputy engineer of the IRGC Ground Force, Ali Akbar Puri Rahim, one of the former commanders of ...
Oral History News of June-July 2023
According to Iranian Oral History website, "News of the Month" is the title of a series of reports on this website. These reports review the news related to the topic of the site in written and virtual media. In the following, you will read news from July 2023. The book "Chamran Motorcyclist" was reviewed as a combination of oral history and memoir along with a brief look at the role of martyr Chamran in the ...

No gas for Tehran
On the night of 12th of Bahman 1357 (February 1, 1979), we started driving ]toward Tehran [amid the cold weather of the town of Abadeh by a Paykan automobile that had no heater and had not been serviced during the recent days. We had not distanced so much from Abadeh that we got a flat tire. It was very difficult for us to fix a flat tire. Fortunately, I had a spare tire in the back of the car.

Book Review
Children and Fates
Memoirs of Anis Naqash
Children and Fates is a part of Anis Al-Naqashs autobiographical memoirs, translated into Persian by his wife Batoul Khodabakhsh. Anis Naqash was born in Lebanon in 1951. He joined the student organization of Fatah Movement in his youth, and started fighting against the Zionist regime from that time. He planned and executed many operations against this regime. The book begins with a long preface by the translator. This work is only a part of Anis Naqashs memoirs ...
Oral History Weekly Magazine Aims and Regulations
Oral History Weekly Magazine wishes to create a suitable place for thoughts and idea development; Its main field would be "Oral History" and subjects as telling & writing memoirs, writing diaries, travelogues, chronologies, and all other subfields of history which are presented in the form of news, articles, reports, notes, interviews and memoirs can be included. There is no limitation on the length of would-be-sent materials.
Mentioning the name, academic background and email is necessary. Articles with complete references and bibliography are more credited and an abstract would quite helpful.
Weekly is not about to publish any material consisting insults and libels about other people or anything that brings anxiety to public opinion. Weekly can edit and translate the received materials.
The published articles and materials are only the writer's ideas and Oral History Weekly Magazine has no responsibility about their content.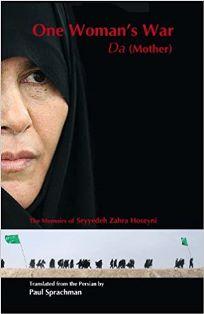 Da (Mother)
The Memoirs of Seyyedeh Zahra Hoseyni
Seyyedeh Zahra Hoseyni
Translated from the Persian with an Introduction by Paul Sprachman
Persian Version (2008)
Sooreh Mehr Publishing House
English Version (2014)
Mazda Publishers
***
After a good cry, I felt better. I began to stroke the babys head and neck and massage his belly and legs. This seemed to work, as his crying jags became less frequent. He was overtired and couldn't keep his eyes open.