The sixth virtual meeting of oral history of Iran
Methods of Compiling and Writing Oral History – 2
The 6th oral history meeting was held at the clubhouse and the historians room on Saturday, January 15, 2021, under the direction of Dr. Mehdi Farahani Monfared and performed by Mrs. Musfa. In this meeting, Dr. Abolfazl Hassanabadi, Dr. Habibullah Esmaili, Dr. Seyed Mahmoud Sadat Bidgholi, Dr. Javad Abbasi, Dr. Mehdi Abolhasani Targhee, Ali Mohammad Zamani, Dr. Ashraf, and Dr. Nazila Khalkhali spoke about editing and compiling of oral history.

An Excerpt of Manijeh Lashkari Memories
Eight years had been passed; eight years with no news and wait. Air Force told: "Hossein Lashkari is alive." Foundation of Martyrs told: "it's fifty-fifty," because his name was not still in ICRC list. I was sure he was alive but waiting and loneness bothered me. Foundation of Martyrs, after four years of ignorance, informed wives of those who were missing in action that they can marry.

Hunger Strike in Vatican, Paris in Support for Imam Khomeini
In protest against the restrictions imposed on the Imam by the Iraqi Baathist regime, [1356 (1976)], the Islamic associations of the students in Europe took several actions. Among these activities, two hunger strikes were organized in the Vatican and Saint Mary Church in Paris. Although we knew that they do not allow political activities in the Vatican, it was planned in such a way that the guys would enter there dispersedly and ...
Oral History Weekly Magazine Aims and Regulations
Oral History Weekly Magazine wishes to create a suitable place for thoughts and idea development; Its main field would be "Oral History" and subjects as telling & writing memoirs, writing diaries, travelogues, chronologies, and all other subfields of history which are presented in the form of news, articles, reports, notes, interviews and memoirs can be included. There is no limitation on the length of would-be-sent materials.
Mentioning the name, academic background and email is necessary. Articles with complete references and bibliography are more credited and an abstract would quite helpful.
Weekly is not about to publish any material consisting insults and libels about other people or anything that brings anxiety to public opinion. Weekly can edit and translate the received materials.
The published articles and materials are only the writer's ideas and Oral History Weekly Magazine has no responsibility about their content.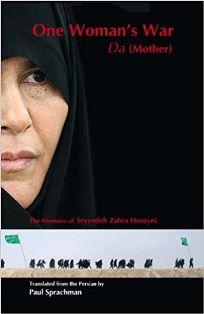 Da (Mother)
The Memoirs of Seyyedeh Zahra Hoseyni
Seyyedeh Zahra Hoseyni
Translated from the Persian with an Introduction by Paul Sprachman
Persian Version (2008)
Sooreh Mehr Publishing House
English Version (2014)
Mazda Publishers
***
On that day our next-door neighbors were having a circumcision ceremony. Mohsen went up on the roof to watch.