Are Your Eyes as a Sea?
Narrated by the mother of martyrs Muhammad, Abdul Hamid, Nasrallah and Reza Junidi
The book "Are Your Eyes as a Sea?", written by Javad Kalate Arabi, narrated by Ansieh Junadi, the mother of the 4 martyrs, was published in the spring of 2023 by Iran Publication. The title of the book cover is written in the eye design and the word "eye" is used in the titles of the chapters. It seems that the author wants to force the reader to read all the chapters with this trick to ...

The Memories of Morteza Alviri
A March in Support of IRGC
Mojtaba Taleghani, the son of Ayatollah Taleghani, has been arrested due to his affiliation with a leftist group and carrying illegal weapon. This issue made a fuss. It was heard in the news and sayings that Mojtaba Taleghani has planned to attack somewhere with this weapon, and the other impressions like this. At that time, Engineer Gharazi served in IRGC, and it was he who arrested Ayatollah Taleghanis son. Dr. Ebrahim Yazdi and ...
Oral History; Science or Method
Now the question is whether oral history, which has a deep relationship with history, is a science or a research method under the science of history! To get the answer, it is better to take a look at the background of oral history. Oral history is one of the new research achievements in history, which describes and identifies past events based on the views, hearings and actions of witnesses and related people.

341st Session of Night of Memory-1
The Greathearted
The 341st Session of Night of Memory, titled "Daryadelan (The Greathearted)" and narrated by the honored warriors, veterans, and released prisoners of the Islamic Republic of Iran Navy was held in Hozeh Honari's Sooreh Hall on Thursday, November 24, 2022. In this session, pilot, rear admiral Karamat Shafieifard and Mr. Farnoosh Seifollahifard shared their memories. Akbar Eini and Mohammad Ghasemipour hosted this night of memory. At the beginning of the session, while reminding the seventh day of Azar ...
Oral History Weekly Magazine Aims and Regulations
Oral History Weekly Magazine wishes to create a suitable place for thoughts and idea development; Its main field would be "Oral History" and subjects as telling & writing memoirs, writing diaries, travelogues, chronologies, and all other subfields of history which are presented in the form of news, articles, reports, notes, interviews and memoirs can be included. There is no limitation on the length of would-be-sent materials.
Mentioning the name, academic background and email is necessary. Articles with complete references and bibliography are more credited and an abstract would quite helpful.
Weekly is not about to publish any material consisting insults and libels about other people or anything that brings anxiety to public opinion. Weekly can edit and translate the received materials.
The published articles and materials are only the writer's ideas and Oral History Weekly Magazine has no responsibility about their content.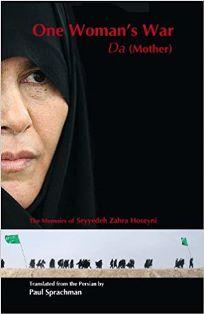 Da (Mother) 54
The Memoirs of Seyyedeh Zahra Hoseyni
Seyyedeh Zahra Hoseyni
Translated from the Persian with an Introduction by Paul Sprachman
Persian Version (2008)
Sooreh Mehr Publishing House
English Version (2014)
Mazda Publishers
***
I looked around and noticed two piles of sand by the yard. I walked to them and rubbed my hands with sand. Then I wiped them off on the earth in the yard. Abdollah followed suit but used more force than I did in trying to rub his hands clean. I got the bloodstains off, but I wasn't satisfied with my efforts.