The 343rd Night of Memoir-2
The 343rd Night of Memoir was held on Thursday 26th of January 2022 in the Surah Hall of the Art Center with the presence of a group of soldiers and families of the Malik Ashtar Battalion of the Muhammad Rasoolullah (PBUH) Army and honoring the memory of the martyrs of this battalion, especially the martyr Mohammad Reza Karur. In this program, which was hosted by Davoud Salehi, the veteran and captures Mohammad Rostamifar, Saeed Tahuna and Nusratullah Akbari shared their memories.

Along with Husband
Nakhl-e-Nakhda neighborhood was far from the city center, our house was a safe place to hold meetings. Clergymen and fighters who were friends of my husband hid books and leaflets in our house. Most of the leaflets were brought by Mr. Darvishi from Qom and hidden in date packages so that no one would notice them. I [Nessa Shoja Nakhli] also hid the packages in the wardrobe and kitchen until people from Bandar Lange, ...
ORAL HISTORY WORKS AND UPCOMING PROBLEMS (1)
In order to understand more about the problems of producing books on the subject of oral history or memoirs, the oral history website has conducted short interviews with some experts and practitioners, which will be presented to the readers in short notes and in several parts. Haste: Haste is a big problem in research works, but it is more visible in oral history. This problem is more related to the clients.

Book Review
Ascension from Olive Branch
Narratives about the life of Ahmad Motevaselian from childhood to captivity
The book " Ascension from Olive Branch" authored by Javad Kalateh Arabi was published by Nashr-e 27 Bethat and the Publications of Irans Press Institution in the spring of 1402 (2023) in 500 copies with price of 210000 tomans. After the introduction, in the first page, the ayah 158 of sura Nessa of the holy Quran has been written, "They certainly did not kill him (Jesus). Rather, Allah raised him up to Himself."
Oral History Weekly Magazine Aims and Regulations
Oral History Weekly Magazine wishes to create a suitable place for thoughts and idea development; Its main field would be "Oral History" and subjects as telling & writing memoirs, writing diaries, travelogues, chronologies, and all other subfields of history which are presented in the form of news, articles, reports, notes, interviews and memoirs can be included. There is no limitation on the length of would-be-sent materials.
Mentioning the name, academic background and email is necessary. Articles with complete references and bibliography are more credited and an abstract would quite helpful.
Weekly is not about to publish any material consisting insults and libels about other people or anything that brings anxiety to public opinion. Weekly can edit and translate the received materials.
The published articles and materials are only the writer's ideas and Oral History Weekly Magazine has no responsibility about their content.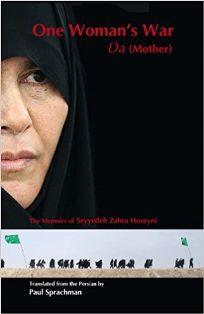 Da (Mother) 60
The Memoirs of Seyyedeh Zahra Hoseyni
Seyyedeh Zahra Hoseyni
Translated from the Persian with an Introduction by Paul Sprachman
Persian Version (2008)
Sooreh Mehr Publishing House
English Version (2014)
Mazda Publishers
***
I examined the boy's face. He was around twenty-eight. He wore a bright blue shirt and jeans. His rifle, which had been mangled by the blast, lay near the foxhole. Apparently he had dug the hole, himself; it was about half a meter deep and was lined with sandbags.